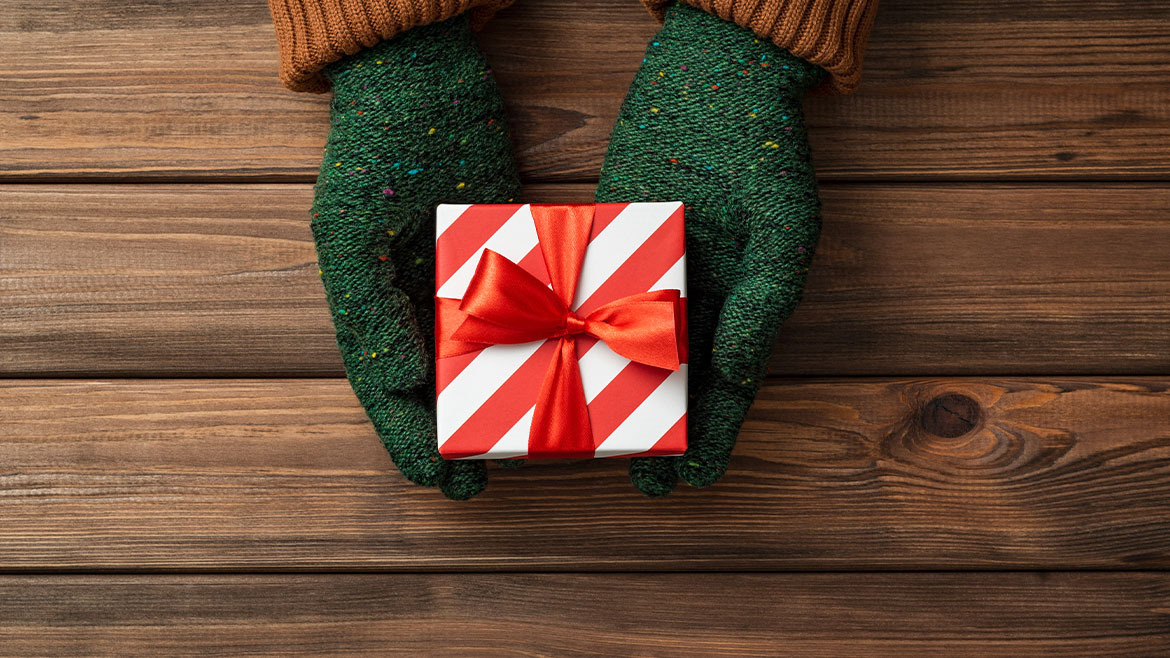 Jesus' Christmas Wish for You 
By: Scott Stein
Dec 21, 2022
My favorite comics strip is Calvin and Hobbes. There's one that has Calvin writing a letter to Santa. He writes:
"Dear Santa,

Every year at this time I send you a list of what I want for Christmas. And every year you callously ignore it and bring me practical things I don't want at all. What's the deal?! Are you insane?? Have you gone senile?? Can't you read?? Or are you just a vindictive, twisted elf bent on destroying little kids' dreams?!?!"
The punchline comes with Hobbes suggesting Calvin reconsider sending the letter, and Calvin agreeing, but saying it just felt good to write it.
I think this is both funny and profound because it captures something very real about us. Even as Christians we have to admit how often we feel this way towards God when he doesn't seem to give us what we ask for.

But it's pure folly to think that true and lasting happiness can come from getting what we want. That's because even the greatest good we could imagine is mere dust and ashes compared to what Jesus wants to give us. As Paul said when quoting the prophet Isaiah:
"What no eye has seen,
    what no ear has heard,
and what no human mind has conceived"—
    the things God has prepared for those who love him—

(1 Corinthians 2:9)
Do you want this Christmas to be a truly amazing and life-changing celebration? Then spend a few minutes with me to consider the implications of this one prayer in which Jesus asks the Father for what he wants most for you.
"Father, I want those you have given me to be with me where I am, and to see my glory, the glory you have given me because you loved me before the creation of the world. (John 17:24)
What Does Jesus Wish For You?
What Jesus wants most for you is to see his glory. That's his greatest wish and desire for every one of his followers. But what does that mean?
In John's Gospel, chapter 17 serves as a pivot point between Jesus' life, teaching, and ministry (chs. 1-16) and his death, burial, and resurrection (chs. 18-21). In it, Jesus asks the Father for the things weighing most upon his heart and mind as he prepares for the cross. And, his glory seemed to be at the centre of it all.
First, Jesus asks on his own behalf, "Father…Glorify your Son, that you Son may glorify you. (17:1) And then a few verses later, "Father, glorify me in your presence with the glory I had with you before the world began." (17:5)
There is an element of mystery here in understanding exactly how Jesus left the glory of his Father's presence. Christmas after all is when we celebrate Jesus' incarnation; that moment in time when he set aside his glory by taking on human form (Phil. 2:6-8), while still retaining his divinity (Col. 1:19). Now, with his earthly mission almost complete, Jesus asks the Father to return him to that which his heart most desired. The glory that was his in the presence of the Father.
Second, he prays for his disciples. He asks the Father to protect them (vs. 11) and sanctify them (vs. 17). Then, including all believers, he asks the Father to make us one, saying:
"Father, just as you are in me and I am in you. May they also be in us so that the world may believe that you have sent me." (vs. 21)
What Does "In Us" Mean?
By asking the Father "may they also be in us", Jesus is asking that every person who the Father gives to the Son as his follower (17:6) be joined in eternal familial relationship with God. Or to put it another way, if we can think of the Father, Son, and Holy Spirit as the "eternal family" of the Godhead, then Jesus is asking the Father to adopt us into this eternal family unit.
Now, if that doesn't blow your mind, then you need to stop and think a little longer about it. For all eternity God has existed in a perfect, unending, unimaginably joy-filled fellowship of love shared equally in the Trinity. It's impossible to grasp how marvelous and satisfying such a perfect existence could be. But this is what Jesus is asking God the Father to join us into. To bring us, Jesus' followers, into the unending, unimaginably joy-filled fellowship of love shared among the Father, Son and Holy Spirit.
But why "In Us"?
There is a missional purpose for Jesus' request. Jesus wants the Father to unite us with God for the sake of witness, "so that the world may believe that you have sent me." (17:21) But there is another, more personal reason that we learn from our key verse 24.
"Father, I want those you have given me to be with me where I am, and to see my glory, the glory you have given me because you loved me before the creation of the world."
Jesus' desire is that we be "in God", so that we may be with him where he is. And the reason for this isn't so we can keep him company. It's in order to fulfill the very purpose for our existence—seeing his glory.
Standing on the Shores of Eternity
Say these words out loud to yourself. "The reason for my existence is to see Jesus' glory". In saying this, while you may not fully grasp its significance (honestly, no one fully can), you are never-the-less uttering the truth of eternity. This is our reason for being. The object and purpose of living. The full and final answer to the question, "why anything?" And this is what Jesus wishes for us.
But what is Jesus' glory? What does it mean? What specifically is he asking for?
What is Jesus' Glory?
God's glory is difficult to define. I like how John Piper describes God's glory as his infinite greatness, beauty, excellence, and perfections "going public"1. In other words, it's the inexpressible goodness of God finding expression; becoming apparent; becoming known.
That's helpful, but only to a point since what we're talking about really is inexpressible. That's because in defining God's glory, we're wading into the mystery of the Trinity. But we get a small clue when Jesus describes his glory as "the glory you [Father] have given me because you loved me before the creation of the world." (vs. 24b)
In 2 Corinthians 4:4 and Colossians 1:15, Paul says the Son is the "image of God". Human beings were created in God's image. But Jesus the Son is God's image. This means that in looking upon the Son, for all eternity the Father sees the fullness of his own glory reflected back to himself, to his eternal joy, delight, and pleasure. And in response, the Father for all eternity has poured out his love through the Holy Spirit upon the Son whose eternal joy and delight it is to be the beloved of the Father whose glory he reveals. (cf. Romans 5:5; 15:30; Galatians 5:22)
The glory of Jesus then is in his eternal, exact and perfect reflection of the Father's glory, to the eternal joy, delight, and love of the Father. It is this that Jesus wants to return to, and what he wants us to see.

Why Does Jesus Want Us to See His Glory?
We might think Jesus is being a little self-centered here. "So, it's all about him, is it?" Well, yes, it is. But not in the way we mean by that. Jesus isn't wishing us to see his glory in order to further glorify himself. Listen to what he says in the final verse of his prayer.
"Righteous Father, though the world does not know you, I know you, and they know that you have sent me.  I have made you known to them, and will continue to make you known in order that the love you have for me may be in them and that I myself may be in them."
There are two incredible truths here. First is what Jesus wants us to experience by seeing his glory. Notice he says, "in order that the love you have for me may be in them". This doesn't mean the Father loving us the way that he loves the Son, as Jesus says he does in verse 23. This means that in seeing Jesus' glory, our experience, reaction, and response will be the same as that of the Father. That we will love the Son with the same soul satisfying, eternal love that the Father does. That the joy, delight, and satisfaction that the Father experiences in looking upon his Son will be ours also. This staggers the imagination, and yet it is precisely what Jesus is asking for.
The second thing worth noting, however, is why Jesus' glory will produce such an effect upon us. He says, "I have made you known to them, and will continue to make you known".
Why will seeing Jesus cause us to respond with such magnitude of love? It will be, because like the Father, in seeing Jesus we see the exact representation of the Father's glory. We see God the Father in Jesus as he really is. And in seeing him so truly, we will truly know him. Which, as Jesus says earlier in his prayer, is the very meaning of life eternal (17:3).

What Are You Expecting for Christmas?
Does God's glory excite you? I must admit that if we treat it only as a concept to contemplate, it will leave us cold. But to experience God's glory; to see it and know it and taste it, that's life-transforming. But do you realize this is exactly what God gives you in Christ? That's exactly what Christmas means. Listen again to John in the opening of his gospel.
The Word became flesh and made his dwelling among us. We have seen his glory, the glory of the one and only Son, who came from the Father, full of grace and truth. (1:14)
Do you see? Jesus has already revealed God's glory to us. In coming, the glory of God entered the world. When we look upon Jesus, we see the glory of the Father on full display. Admittedly, our vision of his glory is imperfect at present. It's obscured by the shroud of sin that still darkens our world and our life in it. As Paul says, for now we see only "as in a mirror dimly" (1 Corinthians 13:12). But through the light of the gospel, we can still see it. In the gospel, the glory of Jesus has been revealed to us. And through the gospel we can grow in our knowledge and enjoyment of Jesus' glory. And that's exactly what Jesus wants for you this Christmas. To see his glory, starting today!
Two Christmas Wishes for You
My wish is that this may do two things for you this Christmas.
First, that it may whet your appetite to stop settling for any Christian experience that is less than soul thrilling. The goal for which Jesus came was so that in him you might experience life to the full, which means the ever-increasing thrill of knowing God and realizing his glory. To help you further down the road, let me invite you to listen to our podcast series on the glory of God.
Second, that you might dare to expect something truly great from Jesus this Christmas. Greater than the gifts or meals or celebrations. That in worship with your church, or times spent alone with the Lord in his Word, you will catch a greater glimpse of God's glory made known to you in the beautiful and glorious face of Jesus.
Merry Christmas indeed!
Notes
Piper, J. (2014, July 22). What Is God's Glory? Desiring God. https://www.desiringgod.org/interviews/what-is-gods-glory--2