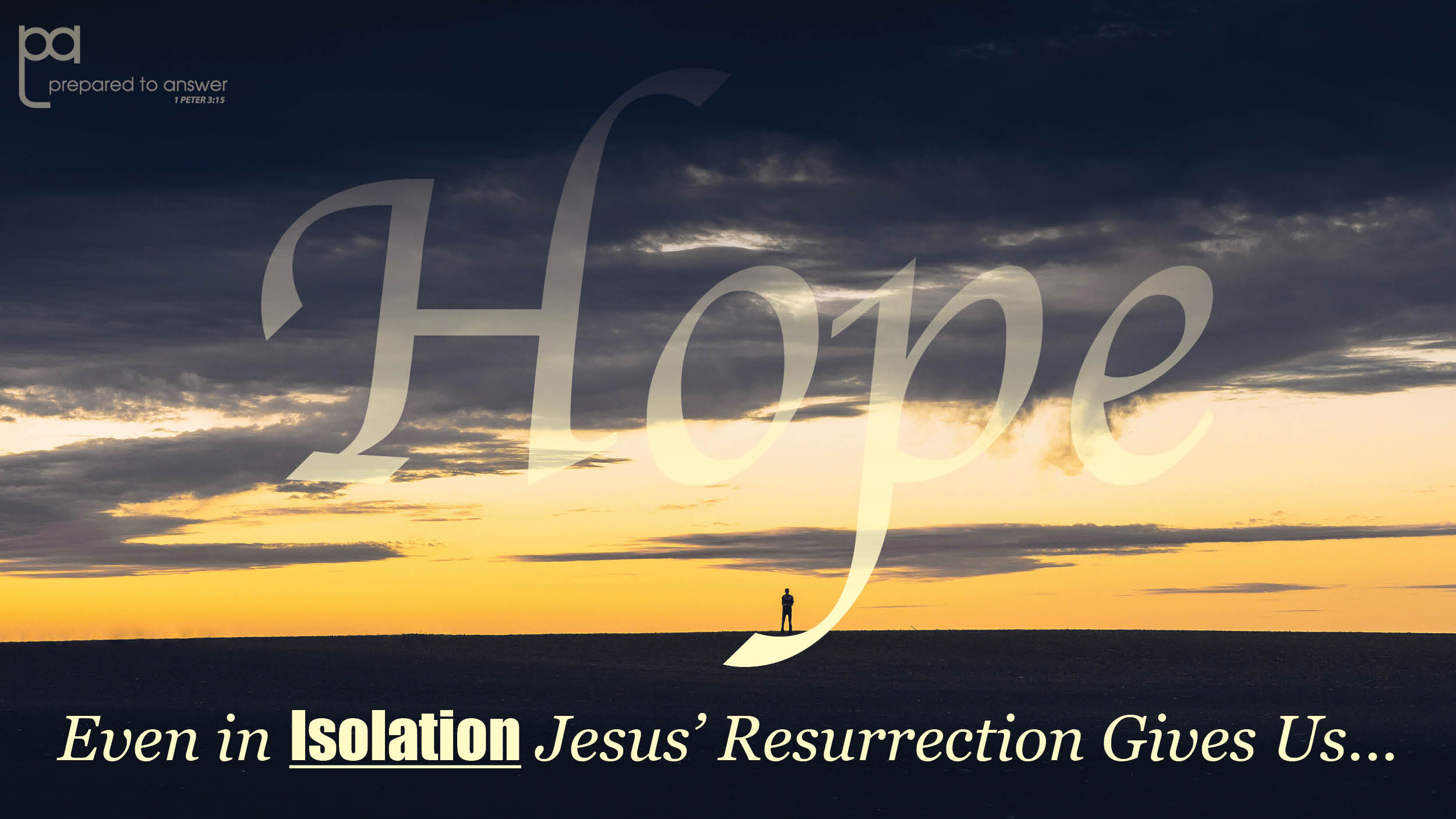 Even in ­Isolation, Jesus' Resurrection Gives Us Hope!
By: Scott Stein
Apr 07, 2020
There's a good chance you'll be celebrating Jesus' resurrection in isolation this year. You might be uncertain whether celebrating Easter is even possible if the church can't gather.
What's certain, however, is that no matter life's circumstances, fixing your eyes on the hope of Jesus' resurrection will bring joy to your heart, peace to your mind, and praise to your lips.
With this in mind, listen to the apostle Paul as he explains the three ways that Jesus' resurrection at Easter delivers all the hope that we need, no matter what the future may hold:
And if Christ has not been raised, your faith is futile; you are still in your sins. Then those also who have fallen asleep in Christ are lost. If only for this life we have hope in Christ, we are of all people most to be piti­­ed.
But Christ has indeed been raised from the dead, the firstfruits of those who have fallen asleep. For since death came through a man, the resurrection of the dead comes also through a man. For as in Adam all die, so in Christ all will be made alive. (1 Corinthians 15:17-22)
Jesus' resurrection sustains our hope
If only for this life we have hope in Christ, we are of all people most to be pitied. (1 Corinthians 15:19)
Does Jesus' resurrection give us hope for the present or for the future? The answer is both.
Paul says we are to be "pitied" if Jesus' resurrection gave us no hope for the future life to come. But we would also be pitiable if Jesus' resurrection gave us no hope for life in the here-and-now. Thankfully, it gives both.
In Ephesians 1, Paul says to the church, "I pray that the eyes of your heart may be enlightened in order that you may know the hope to which he has called you…" (1:18). He then explains the reason for our present hope. Jesus' powerful resurrection has established Jesus' reign, with absolute authority and power, over all of Creation for the sake of his church:
And God placed all things under his feet and appointed him to be head over everything for the church, which is his body, the fullness of him who fills everything in every way. (Ephesians 1:22-23)
Stop for a moment to consider what this means. Whether under the spectre of a world-wide pandemic, alone in restricted isolation, sick in a hospital bed, or grieving at a graveside, Easter reminds us that ultimate control of heaven and earth is in the hand of Jesus, our resurrected Lord, brother, and friend.
The implication is that nothing happens to us by chance. We're not subject to fate. We need not fear or dread sudden or random disaster. Jesus reigns, and reigns for his church.
So, whether healthy or sick; rich or poor; strong or weak; we can have hope in the present knowing that nothing enters our lives that is not under the sovereign and absolute reign of Jesus.
Jesus' resurrection explains our hope
But Christ has indeed been raised from the dead, the firstfruits of those who have fallen asleep. (1 Corinthians 15:20)
My wife's cousin owns a strawberry farm. In late spring when the first berries are ripe, up go the signs and out go the Facebook posts: "Berry season has begun!" This is the biblical image of "firstfruits". What comes up first is the guarantee of more to come.
Jesus, therefore, is our "firstfruits" in that his resurrection to a new, living, eternal, and glorified life guarantees what's coming for those who put their trust in him.
But what kind of "fruits" are we talking about? What exactly do we mean by resurrection?
Jesus' resurrection from the grave was a literal, physical, historical event. The Bible tells us that after dying on the cross and being buried in a tomb for two nights, on Easter morning, Jesus physically came back to life, stood up and walked out of the tomb.
So, by "resurrection", we mean actually coming back to life.
But let's be even more clear. This wasn't just a resuscitation of his old body. Jesus' resurrection was a complete and total redo. It was no less a human body than before, but totally new and improved. Free from weakness and corruptibility.
Paul describes our resurrected bodies as imperishable, glorified, powerful and spiritual.[1] Simply put, they will be physical bodies suitable for eternity.
So, when we celebrate Easter, let's be careful not to sentimentalize the hope that we have. Jesus' resurrection is the guarantee that through faith in him, we too will one day be raised to new life with new, improved, and eternal bodies.
And praise God, because my knees are really starting to bother me!
Jesus' resurrection completes our hope
For since death came through a man, the resurrection of the dead comes also through a man. For as in Adam all die, so in Christ all will be made alive. (1 Corinthians 15:21-22)
Some often object how unfair it seems that Adam's sin in the garden should be counted against us too. After all, we didn't eat from the forbidden tree in Eden. Why should we be held responsible for that?
It's because though individual in our being, we're social by our nature. This means that no one belongs to themselves alone. That might sound foreign to our western ears. But the fact is we're all born as members of an extended family, tribe, nation or race.
So, whether we like it or not, we share in the collective glory or shame of our community—and especially of those who lead us. It's inescapable. As Dr. Martyn Lloyd-Jones put it, "God has always dealt with mankind through a head and representative."[2]
But before we object too much, consider this: God could have created us all at the same time, totally independent from each other. And yes, this would relieve us of guilt by association with Adam's sin. But it would also preclude us from any chance of being associated with Jesus' righteousness. We would each be left entirely on our own to face the consequence for our own sin.
But it's precisely because we're so bound together with Adam that Jesus' resurrection fulfills our hope. Our solidarity in humanity with Adam means that we can also stand in solidarity with Christ, who is the second Adam (see Romans 5:14).
And here's the most glorious miracle of the incarnation of the Son of God. In choosing to bind humanity together in the tragedy of Adam's sin, God made a way possible for us to be eternally bound together with him in Jesus.
And so, we celebrate Jesus' resurrection because through faith it's no less our resurrection. Jesus could not have said it more plainly: "because I live, you will live also" (John 14:19).
Conclusion
The present Coronavirus crisis may have you laid low in your heart. Perhaps you're struggling now with its impact and will struggle even more in days to come.
Even still, Christian take heart. Easter approaches, and with it an observable reminder (whether the church congregates or not) that trial, sorrow, sickness, and death is not the final word for us. But rather, because He lives, we also will live!
Praise Jesus indeed!
---
Footnotes
[1] 1 Corinthians 15:42-44 — So will it be with the resurrection of the dead. The body that is sown is perishable, it is raised imperishable; it is sown in dishonour, it is raised in glory; it is sown in weakness, it is raised in power; it is sown a natural body, it is raised a spiritual body.
[2] Dr. Martyn Lloyd-Jones, Romans (The Banner of Truth Trust and Zondervan), vol. 4, p. 178.