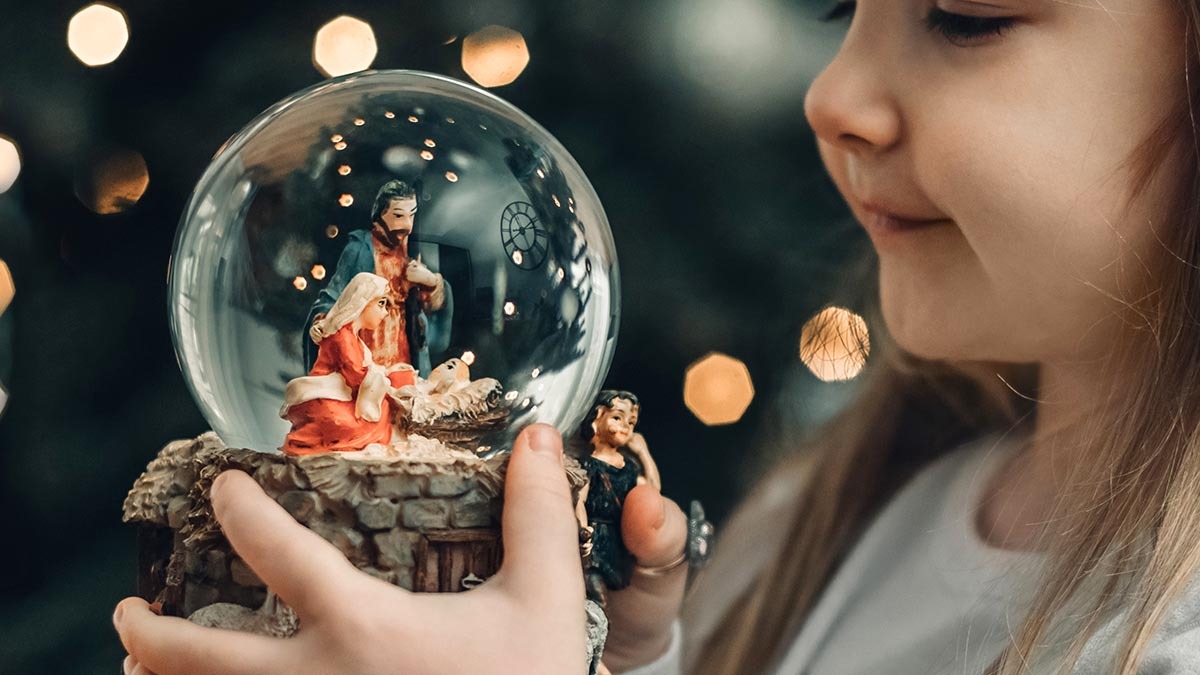 What Does "Keep Christ in Christmas" Even Mean? 
By: Scott Stein
Dec 08, 2020
Christians are often concerned at Christmastime with "keeping Christ in Christmas." But maybe we should spend a bit more time thinking about which "Christ" it is we're "keeping."
This occurred me while reading a Christmas editorial in the Huffington Post Teen column. The writer, a high school senior and self-professing Christian, shared what he felt was a valuable lesson on the "true" meaning of Christmas. He writes,
One of the fundamentals of Christianity is that we must share Christ with others who don't believe in him because Christ is available to everyone. So why should Christian believers…have a monopoly on Christmas? You see, if Christians would step back for a minute, they would truly see something very Christ-like going on all around them… even in those families that are not Christians.
Christmas is love. Christmas is joy. It's happiness, it's peace, it's family, it's feasting, it's gift-giving, it's beautiful…– don't you see that my description describes Jesus Christ just as easily as it describes Christmas? The feeling you feel, whatever your religion, when you are with family and friends is the same feeling I feel in my faith.
It's hard to be critical of anyone expressing a desire for peace, love and happiness for all mankind. The sentiment of his words has merit. Unfortunately, what it lacks is substance. That's because while extoling the value of Christmas, he has failed to clearly explain who Christ is. Consequently, he could have substituted "Christmas" with "Festivus" and pretty much said the same thing.
Use Christmas to clarify Christ
Unfortunately, even sincere attempts to "keep Christ in Christmas" can lead us astray. Heart-tugging reflections on how Mary or Joseph must have felt, or the humble circumstances of Jesus birth, surely have their place. But only as backdrop for the true significance of the event, namely, the incarnation of Christ.
Christmas is about incarnation
Reading the gospels, you can't help but be struck by their apparent lack of detail about Christ's birth. Mark and John make no mention at all, while Matthew and Luke present it in very factual terms. They include just enough detail for the particular message they wish to communicate.
Unlike us, the gospel writers weren't interested in how Jesus' birth made people feel. They cared about what it meant. Even "Mary's Song" in Luke says more about what Jesus' birth taught her about God than how she felt at the time.
It's not that the gospel writers didn't care about people's feelings. They just knew that truth is more important. That's because without truth, our feelings will leave us "tossed here and there by waves," (Ephesians 4:14) with nothing firm to stand on.
And so, "keeping Christ in Christmas" means first and foremost being clear on the truth about what Jesus' birth meant. And its meaning can be summed up in one word: incarnation.
The meaning of the incarnation
The meaning and miracle of Jesus' birth was the pivotal moment in creation history. It was that instant in time when the Creator took the human nature of the creature upon himself forever. God becoming one of us is the power behind the Christmas story. Both gospel writers highlight this one ultimate point:
All this took place to fulfill what the Lord had said through the prophet [Isaiah 7:14]: "The virgin will be with child and will give birth to a son, and they will call him Immanuel" which means, "God with us." [Matthew 1:23]
The Holy Spirit will come upon you, and the power of the Most High will overshadow you. So the holy one to be born will be called the Son of God. [Luke 1:35]
Failing to celebrate the importance of the incarnation means that we fail to celebrate Christmas. The "spirit of Christmas" extoled by so many, becomes an ambiguous feeling of "good-will" that each person has for his or her own reasons. The "good news" that the angels proclaimed becomes no news.
The great mystery made known at Christmas, however, is that God became man. Our Father Creator, whom our sin has separated us from, has come to us and made himself known. That's the meaning of Christmas. That and that alone is what offers hope to all people by making peace and life with God available to everyone. J. I. Packer offers this summary:
The really staggering Christian claim is that Jesus of Nazareth was God made man – that the second person of the Godhead became the "second man" (1 Cor. 15:47), determining human destiny, the second representative head of the race…" (J.I. Packer, Knowing God, p. 58).
As God and Man, Jesus became the second "Adam." This makes him our representative head, and the only one who can solve our estrangement from God. This of course directs us to the cross, another feature of the Christmas story that can't be left out.
Christmas points to the cross
The "humility" of Christmas is not to be found in the features of Christ's lowly manger birth. If we really understood the incarnation, we'd know that even the splendour of Solomon's palace would have been ill-suited. Rather, Paul points to the true humility of God displayed at Christmas:
Who, being in very nature God, did not consider equality with God something to be used to his own advantage; rather, he made himself nothing by taking the very nature of a servant, being made in human likeness. And being found in appearance as a man, he humbled himself by becoming obedient to death—even death on a cross!" (Philippians 2:6-8)
Teach Christmas at Christmas
For Christian families celebrating Christmas, rescuing our minds and the minds of our children means so much more than just keeping "Christ" in "Christmas." It also means seeing Christmas as an opportunity to clearly focus our hearts, minds, and worship on the truth of the incarnation. To do this, I would offer some practical suggestions:
Take time as families to open the Bible at Christmas. Parents should see Christmas morning as a teachable moment whereby presents, feasting, and festivities can be placed into their appropriate context (i.e. response of celebration for truly "Good News").
Read the Christmas narrative from Luke's gospel, laying appropriate emphasis not on the circumstances of the human characters, but on the meaning of the event. ("So the holy one to be born will be called the Son of God." – Luke 1:35)
Include in your Christmas teaching a reading of John's account in John 1:1-18. If ever a passage was written that spells out the true meaning of Christmas, this is it.
May God truly bless you as you worship God "in spirit and in truth" by celebrating the fact and implications of his incarnation at Christmas.
Originally published Dec 23, 2013, updated Dec 8, 2020.